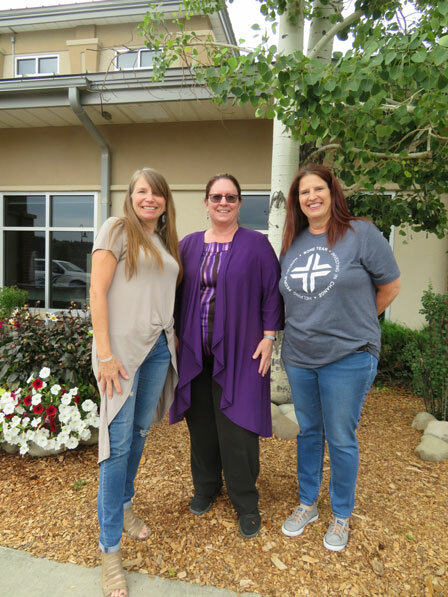 By Leah Ballard | Habitat for Humanity of Archuleta County
Now that administrative staff have done the light work of prequalifying Habitat for Humanity of Archuleta County hopefuls for a USDA mortgage loan, the Family Selection Team does the heavy lifting of choosing who gets housed first.
By this point in the process, applicants have completed their mortgage loan application and submitted all supporting documentation in June of 2022, over a year before the proposed move-in date.
Habitat Archuleta Executive Director Lori Henricksen and the newest member of the team, Homeowner Services Coordinator Leah Ballard, reviewed the applications and held initial meetings with all 28 applicants to discuss the finance side of things in July.
To become a Habitat homeowner this year, applicants must financially qualify to pay a mortgage to cover our cost to build with donations and discounts, plus 10 percent. And before the loan is closed, the staff at Habitat Archuleta pursue grant funds on behalf of the homeowners to bring the total cost of the home down further, sometimes an additional $30,000.
Because our cost to build includes volunteer labor and donated materials, homeowners are also beholden to deed restrictions attached to the property. Deed restrictions are intended to protect the investment our community has made while also being in the best interest of the homeowner. If a Habitat family ends up being first-time home buyers, rather than forever home buyers, both scenarios fall within our objective at Habitat Archuleta. However, the purchase is more advantageous if the family stays put for the life of the loan.
Once we've sifted through the paperwork, applicants are asked if they'd like to continue the process — not everyone says yes. After our initial meeting, some folks feel they aren't yet ready for homeownership and decide to hold off for one more year. Many families apply more than once.
Those who choose to move forward are scheduled for a family visit with our Family Selection Team. This year, the number of finalists has tripled. We received more than 30 inquiries for our three 2023 Habitat builds and 10 families have decided to continue with the process.
This month, three of our board members have scheduled visits to meet the whole family, 10 times over. Between work, council meetings and regular life, Barbra Swindlehurst, Cindy Schultz and Aileen Roth are booked every night this month.
For the applicants, it is surely a nerve-racking scenario, but the visit is meant to be a casual. Applicants are asked about their current living situation and given another opportunity to ask more questions about the Habitat process. The children are given the opportunity to entertain, which they did not have a chance to do at the mortgage meeting.
The family visit is meant to ensure that decisions are not just based on ink and paper, but financial ability must come in to play. Our job is to ensure we're putting folks in Habitat homes who are ready to own a home — ability to maintain upkeep, debt repayment and community involvement are all pieces of homeownership we consider.
Notes from the home visits are presented to the rest of our board the following month. The board will make a decision on our 2023 builds in September.
Some families may still choose to wait at this juncture, for personal financial stability, or hold out for a larger lot to be available, or hope for more grant funds in years to come that may close the gap between the home they need and a home they can afford to buy.
As thrilling as it is to deliver good news to the families who are selected, it is not an easy job to discern who joins our Habitat family first.
Habitat Archuleta homes are a combination of volunteer labor, subcontractor contributions, in-kind donation of products and services, and homeowner sweat equity. Habitat families work alongside volunteers to build their home and pay an affordable mortgage.
These hours and efforts will be appreciated for generations by our workforce homeowners, the businesses who employ them and the children who rely upon them.
Contact us to see how you can get involved. Starting Sept. 21, we'll be on the job site Tuesday through Saturday from 8 a.m. to 2:30 p.m. We need get 'er done before the snow flies. Please call (970) 264-6960 or email office@HabitatArchuleta.org before you arrive so we can plan for how many hands we'll have on deck.