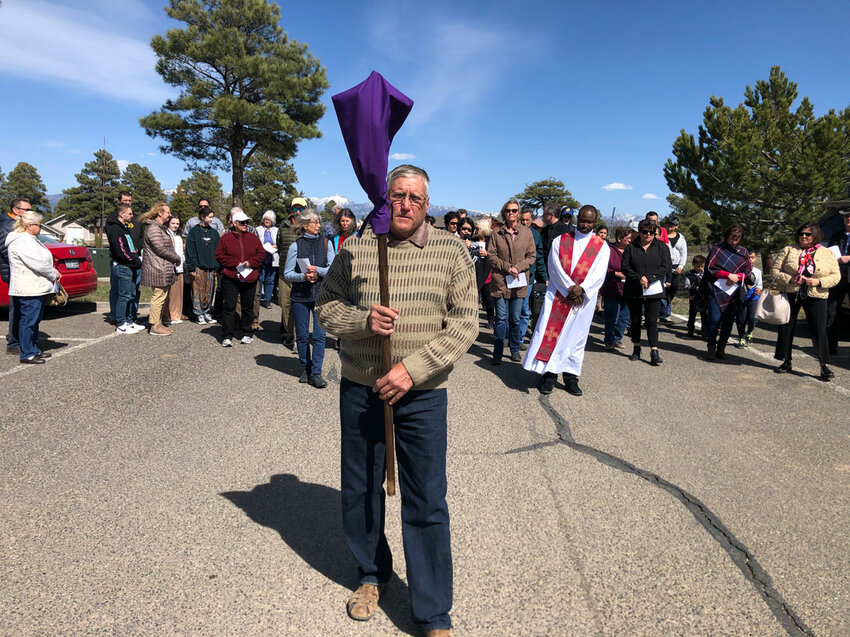 By Gene Tautges | Pagosa Catholic Community 
Good Friday pilgrimages will be held all over the world on Friday, April 7. In Jerusalem, pilgrims will trace the steps that Jesus Christ walked as he carried his cross. Here in Pagosa Springs, pilgrims of many faiths will be participating in a Good Friday pilgrimage as well.
The Put Hill Pilgrimage, as it's been referred to over the years, begins downtown at 2 p.m., proceeds up U.S. 160 with a police escort, and will end at Saint John Paul II Catholic Church on South Pagosa Boulevard. Everyone is invited to attend.
Pilgrims will gather at Immaculate Heart of Mary Catholic Church, 451 Lewis St., for a safety briefing.
Father Samuel Auta, pastor of the Pagosa Catholic Community, will lead the procession bearing the cross, with others carrying crosses as well, depicting the journey Jesus took leading to His crucifixion. Water stations will be located strategically along the route to help keep pilgrims hydrated.
Pilgrims are encouraged to wear comfortable shoes and weather-appropriate attire. The pilgrimage is held regardless of weather conditions. The spiritual journey will give everyone an opportunity to reflect upon Christ's passion.
At the conclusion of the walk, Stations of the Cross will begin at 4 p.m. in the Father John Bowe Prayer Garden behind the church. Pilgrims will pray through Christ's passion and death as they move through the 14 Stations of the Cross. Following the Stations of the Cross, at 5 p.m., the Good Friday service will take place inside the church. The Good Friday Liturgy includes the narration of the passion of Jesus Christ, Holy Communion and veneration of the cross. The entire Pagosa Springs community is invited to attend.
For more information, please call the church office at (970) 731-5744.