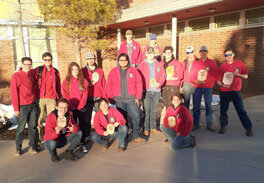 By Randi Pierce | Staff Writer
Sixteen Pagosa Springs High School (PSHS) students earned their way to the SkillsUSA State Leadership and Skills Conference in Colorado Springs in April after placing at the regional championships in Durango on Feb. 4.
The regional competition featured close to 60 students from Southwest Colorado schools, program sponsor Torry Hessman explained, with 20 of those students coming from PSHS.
"SkillsUSA is a partnership of students, teachers and industry representatives working together to ensure America has a skilled workforce. SkillsUSA helps each student to excel. SkillsUSA is a national organization serving teachers and high school and college students who are preparing for careers in technical, skilled and service occupations, including health occupations and for further education. SkillsUSA was formerly known as VICA (the Vocational Industrial Clubs of America)," the SkillsUSA Colorado website explains.
The following results from regionals were provided by Hessman.
The PSHS TeamWorks 1 team — Timothy Hittle, Kierin Poore, Jolon DeJesus and Ethan Chavez-Skok — placed first in Durango.
The PSHS TeamWorks 2 team — Casey Beck, Ethan Hart, Heath Fulbright and Stephanie Lucero — took second.
Pagosa's CSI (crime scene investigation) team — Levi Hinger, Andrew Bowles and Ruth Ann Morehouse — took first in Durango.
Hinger also placed second in job interview.
Geoffrey Munro took first in welding, Halle Munyon took second and Caden Kop took third.
Tommy Barker placed second in cabinet working.
Brodie Norton took second in carpentry.
Other PSHS students competing at regionals included Kaison Clifford, Asa Salazar, Joann Granados-Tapia and Breck Wilson.
Hessman explained the team has had to rebuild this year after the program was paused due to COVID after regional competition in 2020 (a year that 19 Pirates were slated to head to state) and 2021 was held in an online format, with Hessman explaining a lot of students didn't sign up because they wanted the hands-on format.
"This year was a total rebuild," Hessman said.
Only the seniors — Hittle, Beck, Hart, Lucero, Barker and Wilson — had participated in SkillsUSA before, with the other 14 being new to the program, Hessman explained.
"I was incredibly pleased that I had this many kids sign up," he said.
Hessman also highlighted some of the community partnerships that help the students be successful, noting that several of the students are in building trades and welding programs at PSHS, local professionals work with the kids on other vocational skills (the team is looking for more help from plumbers and electricians), and the Archuleta County Sheriff's Office works with the CSI team.
"Pagosa Springs has been super successful in CSI because of the sheriff's department," he said, noting Pagosa has sent several CSI teams to nationals.
The state conference is scheduled for April 6-8 in Colorado Springs, with nationals following in the summer.
randi@pagosasun.com