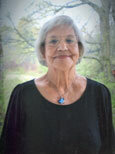 Mrs. Maria Dulcinea Branson, age 93, a resident of Gillham, Ark., died Saturday, Dec. 3, at her home.
She was born Oct. 25, 1929, in Pagosa Springs, Colo. She was a member of the St. Barbara Catholic Church. She loved her church and loved cooking.
Mrs. Branson was preceded in death by her husband, Carl James Branson; her parents, Tobias and Maria Rosa Romero Trujillo; four brothers, Armando, Fernando, Carlos and Fanio; and one son, Matthew Branny Branson.
She is survived by three children, Terrance G. Branson, C. Anthony Branson and his wife, Tracy, all of Gillham; Roseanne Paslo and husband Joseph, of Concord, N.C.; four sisters, Maria Bradley and Priscilla Gallegos, of Arvada, Colo., Becky Everage, of Thorton, Colo., and Lucilla Hoover, of Houston, Texas; four grandchildren; and two great-grandchildren.
Funeral Mass was held at 10 a.m., Tuesday, Dec. 6, in the Monsignor Scott Friend Pastoral Center at St. Barbara Catholic Church with Father Ramses Mendieta officiating. Burial followed in Gillham Cemetery.
Visitation was held from 5 to 7 p.m., Monday, Dec. 5, at the funeral home with a holy rosary.
In lieu of flowers, donations may be made to St. Barbara Catholic Church, 503 W. De Queen Ave., De Queen, AR 71832.
You may leave a condolence online at www.wilkersonfuneralhomes.com.