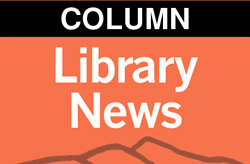 By Carole Howard | PREVIEW Columnist, and the library staff
A new ongoing event called Knowledge Bowl debuts next Thursday, Feb. 9, from 4 to 5 p.m. for teens.
Participants will form teams of up to six people to compete against each other by answering questions that cover a range of topics from math to spelling to pop culture.
This free event is a fun way to test your wit, trivia and teamwork skills as you compete against other students.
Knowledge Bowl will run every second and fourth Thursday for the remainder of the school year and be moderated by Josie, your library's teen librarian. It is open to students in the fourth through eighth grades, or ages 11-14. Registration is not required for this free event.
Josie points out that Knowledge Bowl has a place in local history because it originated in Durango back in 1976.
Events calendar
To be sure you don't miss any of the free library activities available to you and your family, we encourage you to pick up a copy of the events calendar each month. Its streamlined format combines all the activities and events for children, teens and adults on one handy, two-sided page.
Flu season protocols
The curbside service that we began for COVID safety continues — and it's also a healthful option in the cold and flu season. To save your energy and lessen germ exposure to other patrons, we recommend you use our curbside service — or add a name to your account authorizing that person to pick up items for you while you recuperate.
Library hours:
• Mondays, Wednesdays and Fridays, your library is open 9 a.m. to 6 p.m.
• Tuesdays and Thursdays, your library is open 9 a.m. to 8 p.m.
• Saturdays, your library open 9 a.m. to 3 p.m.
Save the date for
Friends book sale
On Saturday, Feb. 11, the Friends of the Library will host a Cabin Fever Book Sale from 9 a.m. to 3 p.m. at your library.
This is a great opportunity for you to find new treasures at bargain prices to keep you company this winter.
Save the date for
library fundraiser
We hope you will note April 15 on your calendar for the second annual Library Affair fundraiser for our building campaign to expand and renovate your library. This elegant event will feature a silent auction of different table settings designed by some of Pagosa's most creative artists.
If you want to decorate a table for this prestigious event, please call Cindi Galabota, library foundation director, at (970) 264-2209.
Special teen and tween event tomorrow
Teens and tweens will want to join us tomorrow, Friday, Feb. 3, for our first-ever free Teen and Tween Takeover of the library from 2 to 4 p.m. During that time, our conversational computers will be reserved only for users aged 9-19.
Gaming tomorrow
Enjoy free all-ages video gaming on the Xbox 360 Kinect tomorrow, Friday, Feb. 3. from 3 to 4 p.m.
Makerspace on Saturday
Kids, tweens and teens are invited to a free Makerspace session on Saturday, Feb. 4, from 11 a.m. to noon, when we'll provide the materials so you can build, design and create.
SJBPH community
health event
Next Tuesday, Feb. 7, from 1 to 3 p.m., San Juan Basin Public Health (SJBPH) staff will be on hand to give you copies of its community health assessment and help you fill it out. This is a 15-minute anonymous survey to gather input and opinions from Archuleta County and La Plata County residents on your major health priorities and needs.
Since both counties are now in the process of forming new individual public health departments to launch Jan. 1, 2024, your input will be vital to setting their priorities as they set up their services.
If the Feb. 7 date does not work for you, an alternative is for you to come to the library to fill out the survey online, or pick it up on paper and return it to the library or SJBPH when you have completed it.
This event is the beginning of a series of monthly outreach sessions hosted by SJBPH at your library. March will feature a Nurse-Family Partnership discussion on March 7.
Dungeons and Dragons
Next Tuesday, Feb. 7, from 4 to 5:30 p.m., join our in-person Dungeons and Dragons game free for teens and young adults. Registration is required because space is limited. Contact Josie@pagosalibrary.org to join.
More online author talks
There will be three talks this month in our free online virtual series featuring New York Times bestselling authors and thought leaders giving live, professionally moderated book discussions you can view on your computer, tablet or smartphone with Internet access. You will have an opportunity to ask questions of the authors.
On Thursday, Feb. 9, at 5 p.m. we'll hear from Lena Harper, author of "Back in a Spell," part of the Witches of Thistle Grove fantasy romance series.
Thursday, Feb. 16, at 11 a.m. showcases Grace M. Cho, author of "Tastes Like War," a Korean American daughter's exploration of food and family history in order to understand her mother's schizophrenia.
On Feb. 28, at 2 p.m., we'll interact with Sadeqa Johnson, award-winning author of "The House of Eve." Johnson has written four novels and is the recipient of the National Book Club Award, the Phillis Wheatley Award and the USA Best Book Award for best fiction.
Homework and
tutoring help
Our highly popular free homework assistance and elementary tutoring are available for those in kindergarten through fourth grade on Wednesdays from 3:30 to 4:30 p.m. There is a registration packet for parents and guardians to fill out to enroll your child that you can get by emailing the library or coming in. This program has been a big hit because it helps build essential skills in core subjects. You still can register your child, but you may be put on a wait list.
Family storytimes
Wednesdays from 10 to 11 a.m. join us for free in-person children's stories, games and plenty of reasons to get up and move.
ESL classes
Free in-person evening classes take place on Tuesdays and Thursdays, with 4 to 5 p.m. reserved for beginners and 5 to 7 p.m. for both intermediate and advanced students. Please help us spread the word about these classes to others in our community who would be interested, and contact us by phone or email if you have any questions.
PALS/GED adult
education
Mark is available for his free PALS sessions on Tuesdays and Thursdays from 5:30 to 8 p.m. to help with high school equivalency, GED, college prep, financial aid, tutoring and more. No registration is required.
Tech Time
Free in-person slots are available from 10 a.m. to noon Tuesdays and 2 to 4 p.m. Thursdays. Judy will help you with basic questions relating to computers, smartphones and tablets, and also provide assistance in accessing any of the library's online resources. You do not need an appointment for these drop-in sessions.
Writing challenge
A new all-ages writing challenge was posted Jan.16 on the library's Facebook page. We hope you will challenge your creativity by participating in this free activity.
Downloadable books
CloudLibrary has a wide variety of downloadable e-books and audiobooks for all ages, and accessing this free digital collection is very easy. You just need to download the cloudLibrary app, answer a few simple questions, select AspenCat Union Catalog for the name of your library, then enter your library card number and four-digit PIN. You are now ready to browse, borrow and read e-books and audiobooks using cloudLibrary. Library staff are happy to help you set up your device if you need assistance.
Nonfiction
"The Happiness Year" by Tara Ward helps you explore different ways to discover happiness throughout the year. "A Few Days Full of Trouble" by the Rev. Wheeler Parker Jr., the last surviving witness to the lynching of Emmett Till, and Christopher Benson provides a first-person perspective and new investigative information on this civil rights tragedy.
Novels
"A Thousand Roads Home" by Carmel Harrington is the story of two extraordinary homeless people in Ireland. "Blue Moon Haven" by Janet Dailey features a broken family healing in a rural small town in this latest book in the author's New Americana series.
Donations
Many thanks to Sheila and Patrick McKenzie for their generous monetary donation, and to Joanne Ferko and Carole Howard for their materials donations.
When we are open, material donations are accepted for the Friends of the Library at the front desk — not through the outside returns slot at the library or the drop box at City Market, please.
The Friends take fiction published in 2013 or newer and nonfiction that is 2018 or newer. Limited workroom space means we can only accept one or two small boxes at a time.
Quotable quote
"Every right decision I've ever made came from listening to my gut. Every wrong decision was a result of me dismissing the small, still voice within me. Your life speaks to you in whispers — that little nudge saying, 'Hmm, something doesn't feel right.'" — Oprah, talk show host, TV producer, actress, author and philanthropist.
Website
For more information on library books, services and programs — and to reserve books, e-books, books on CD and DVDs from the comfort of your home — please visit our website at https://pagosalibrary.org.