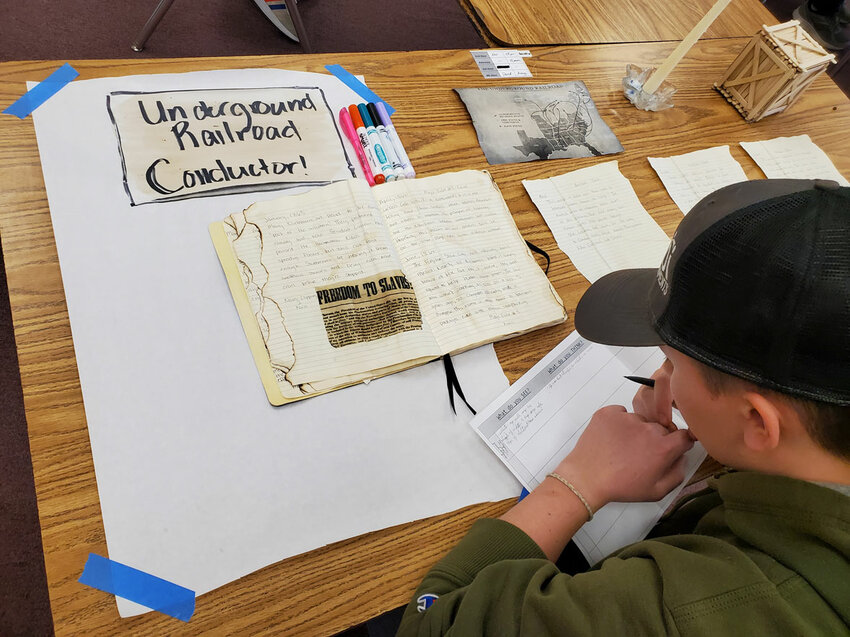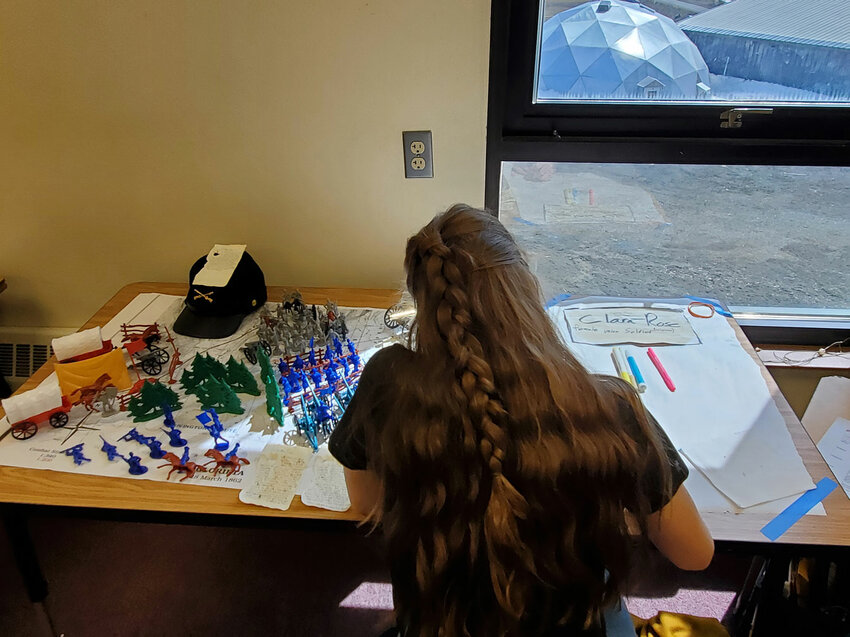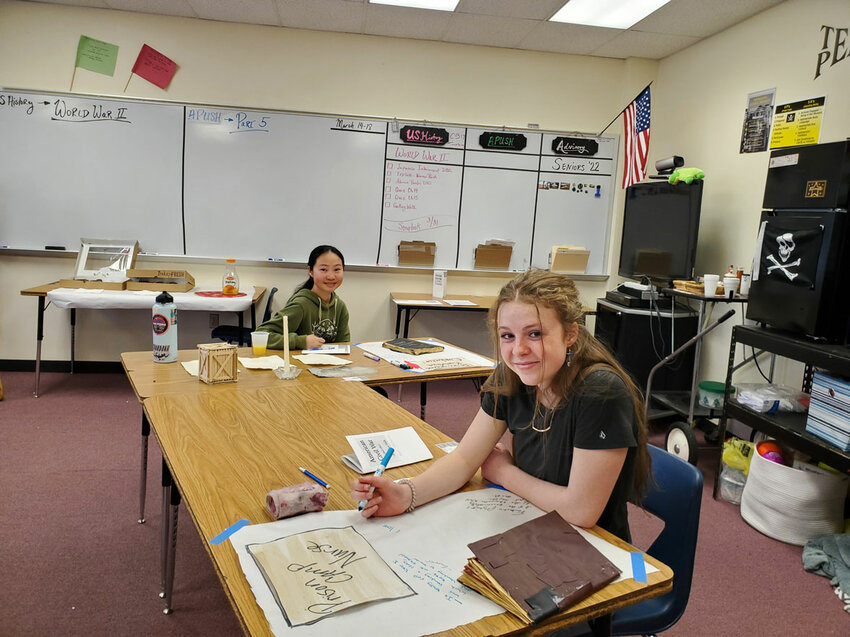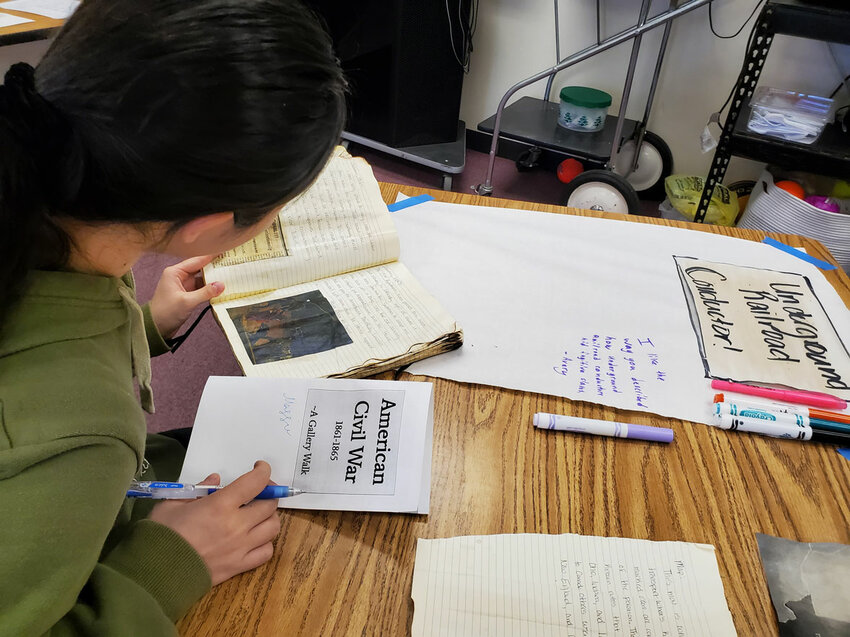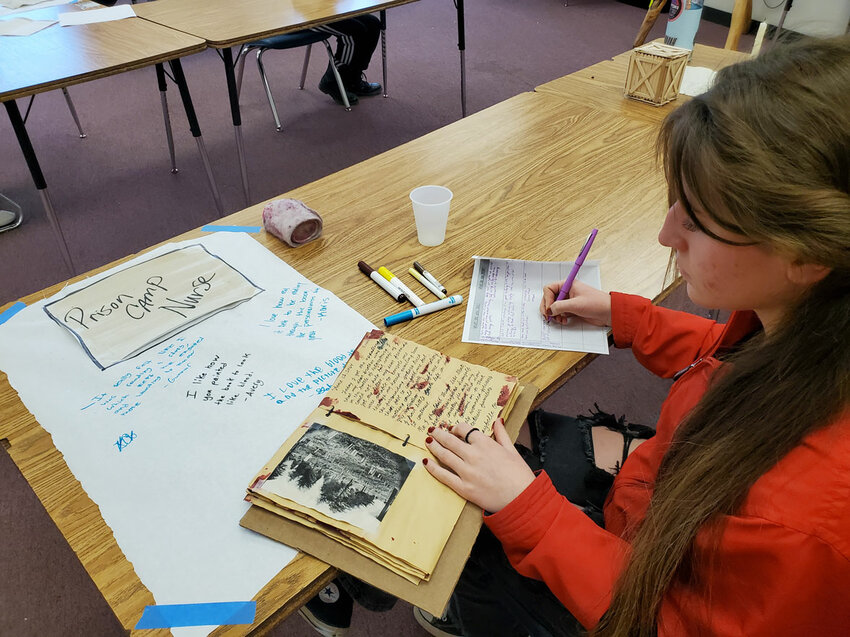 Photos courtesy Kristin Morehouse

By Kristin Morehouse | Pagosa Springs High School
Pagosa Springs High School history students recently captured the hearts and lives of deceased everyday war heroes.
Students in Holly Blackman's U.S. history classes brought their emotions and personal experiences to life through careful crafting of diaries and journals that accurately relayed historical events through the eyes of characters of their choosing.
Using the voices of underground railroad workers, battlefield nurses, women serving as soldiers and many others, they walked their readers through careful considerations that impacted strategic successes in the wars. Their stories shared the personal reflections of key figures along with historical artifacts that they interpreted for the readers. They used photographs, wedding rings, as well as charred and dyed pages, to add interest and authenticity to their characters. Students were impassioned by the historical synthesis of information as the war events were interpreted in light of the characters they actively created. With pride, they shared and enjoyed reading each other's journals.
Soft music, donuts and tears with and for the not-forgotten heroes of our country will not soon be lost or forgotten.
Room C23 offered a safe place to honor the sacrifices of those who came before us in creating our still great country. Students created meaning of our combined struggles and dove deeper into their family sacrifices, as well. Keigan Hughes found a newspaper article from the Rocky Mountain News that detailed the loss of his two great uncles, which was an example of a family losing all males who could carry on the family name. Jerry Nichols and Richard Nichols died in World War II; Hughes was able to understand which battles they died in, where they are buried and why they received certain service medals.
Jaylynne Ramsey shared the inside details of being a battle nurse and working with shortages of supplies and the threat of being captured while working around the clock to save lives. Jazmine Mendoza and Oryan Atole shared details of the Navajo Code Talkers and how their code was never broken. Kye Kelley shared how the Allied Forces used fake messages on the radio to redirect the enemy prior to D-Day.
Blackman's AP U.S. history class also created battlefield displays, made hardtack, built models of enslaved people's hiding crates and brought in replicas of uniforms. They used maps and imitation soiled bandage rolls to help the readers relate to their characters.
Blackman said, "Some students choose to work with partners while others do this project on their own. Many anticipate the scrapbook as they already know about this project from past students. I spend hours immersing myself in them, too, reading about their characters and life experiences. I'm so proud of their efforts in these projects and am humbled by the realism in each."
Our collective future has been made brighter as we all stop to honor those who have gone before us. Many civilians and soldiers have worked hard to ensure our freedoms and to protect our way of life.