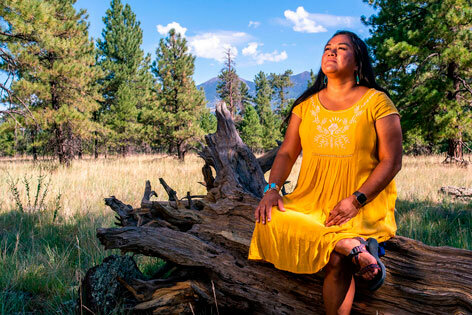 By Sally High | Geothermal Greenhouse Partnership
The Geothermal Greenhouse Partnership's (GGP) 2023 Environmental Film Festival is finally here. The celebration of spring opens Pagosa Springs Earth Week this Friday and Saturday, April 14 and 15, at The Springs Resort.
Nine films by Colorado filmmakers or about Colorado will be shown this year. GGP supporters will once again visit with environmentally minded friends, trace Colorado water, and discuss Colorado experiences and history. The 2023 Film Festival benefits the GGP's educational and operational expenses.
Guests will enjoy three films by Christi Bode Skeie on Friday evening at the Premiere Gala starting at 5 p.m. in The Springs Resort Phoenix Room. Tickets for the premiere gala are $50 and include all nine films on Saturday. Friday evening a crepe buffet and a discounted cash bar will welcome GGP supporters as they greet like-minded locals and meet filmmaker Christi Bode Skeie. She will describe her professional filmmaking and environmental focus.
All nine Colorado Environmental Film Festival (CEFF) Caravan films, each new to Pagosa Springs, will be shown Saturday in two sessions. Two start times, 11 a.m. and 5 p.m., are necessary, because seating is limited. Each Saturday session is $15. The GGP receives films, licensed by the filmmakers, from the CEFF, held each year in February.
Films will be shown in the conference space adjacent to the Phoenix Room. Here is the order of the GGP's first-run films:
• "Right Here Right Now"
• "Voices of the Grand Canyon"
• "Our Desert Farms"
• "Chasing Water"
• "Mighty Oak"
• "Farm to Faucet "
• "Counting Cranes"
• "The Seekers
• "Amache Rose"
The 2022 film festival sold out. 2023 tickets are moving fast. Round up your friends and purchase your tickets today. Go to https://www.pagosagreen.org/environmentalfilmfestival.
Ticket holders do not receive paper tickets. Your names will be at the registration table where GGP volunteers will welcome and wristband you. Registration online is greatly encouraged and only available through Saturday morning. Tickets, for cash, may be available at the door if there are empty seats.
The GGP thanks the Pagosa community of environmentally aware supporters for enthusiasm and local stewardship. The GGP is "growing food and community with local energy!" See you at the film fest and on the Riverwalk.