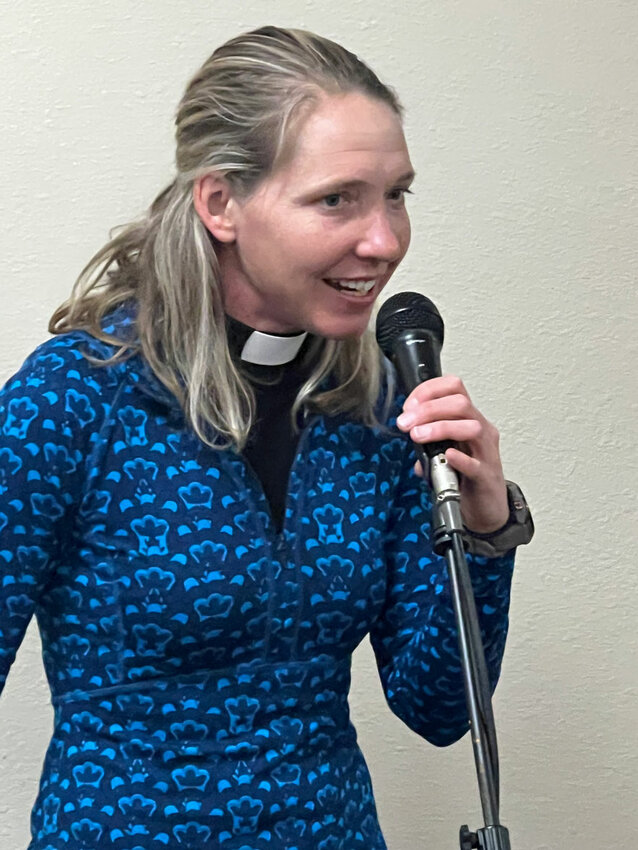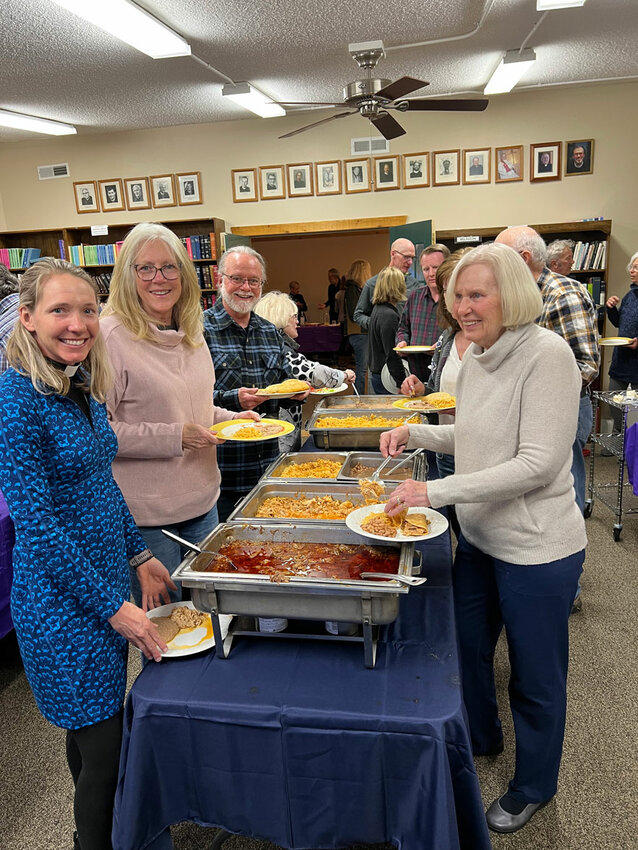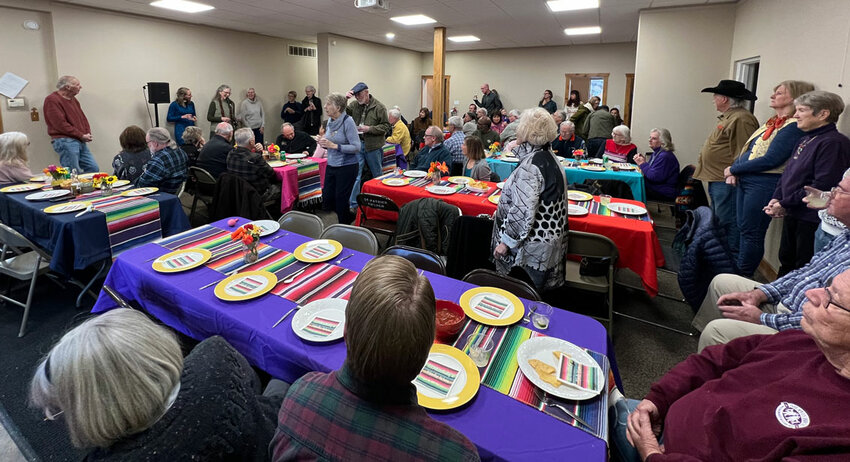 Photo courtesy Saint Patrick's Episcopal Church
The Rev. Wren Blessing thanks St. Patrick's Episcopal Church's congregation for honoring her 10th anniversary as a priest.

By Anthony Aldwell | Saint Patrick's Episcopal Church
The congregation of St. Patrick's Episcopal Church honored its rector, the Rev. Wren Blessing, with a celebratory dinner on Feb. 17 to recognize her 10 years as a priest. The 75 attendees all voiced their appreciation for Blessing's joyful ministry.
As Senior Warden Linda Williams said, "In the 10 years since your ordination, you have brought Christ's love to the young and old, and all ages in between; served on the East Coast and the West Coast, and places in between; taught in English and Spanish; ministered in the sanctuary and in the wilderness. What could be a more fitting setting for your vocation and avocations than beautiful Pagosa Springs?"
Blessing was ordained to the priesthood on March 3, 2013, at Church of the Holy Family, Chapel Hill, N.C. by Bishop Michael Curry. Before coming to Pagosa Springs, she served in a variety of pastoral settings in North Carolina, Washington State and Montana, where she served on the diocesan staff and supported small and rural congregations, as well as the director of the Episcopal Summer Camp on Flathead Lake.
When queried why she came to Pagosa, Wren replied, "Having lived and served in Montana for an extended period of time, I hoped to return to the Rockies. When I visited Pagosa, I was drawn to St. Patrick's commitment to service, openness and its welcoming, joyful spirit."
She also immediately saw Pagosa as a family-friendly community.
Having served as St. Patrick's rector for the past year and a half, Blessing is very pleased with her decision to live and minister here, noting, "It is fun and surprising to serve and participate in a small town, and to see the connections and many layers of support within our community. I appreciate the diversity of the congregation, people who come from various faith and denominational backgrounds and bring their varied experiences and perspectives to St. Patrick's. People serve in bighearted, joyful and creative ways through St. Patrick's, from volunteering for Loaves and Fishes and our food pantry, to offering music, and to helping maintain our buildings and grounds. There is a sense that St. Patrick's members are happy to roll up their sleeves and pitch in. Meaningful relationships grow as we serve alongside one another. St. Patrick's is also strengthened by the partnerships and relationships of support that stretch out across Pagosa Springs."
Blessing's desire for St. Patrick's to be embedded in the fabric of the Pagosa community is captured in her theme of "keeping the porch light on." As such, she stresses St. Patrick's commitment to shared worship, learning and our "no strings attached" fellowship activities open to all community members; the desire to affirm the goodness that is unfolding outside of our congregation through partnerships with other Pagosa congregations; and our dedication to serve our community through St. Patrick's outreach efforts.
As examples of some of these "porch light" activities, she highlighted St. Patrick's evening and public worship services, sometimes held at the Geothermal Greenhouse Partnership amphitheater and the Bee Hive Homes for seniors, the food pantry, the clothing drive and giveaway, YouthServe, musical offerings, the Blessing of the Animals and, of course, the upcoming St. Patrick's Parade on March 18. These activities all reinforce what is stated on the marquee in front of St. Patrick's Church, namely, "All are Welcome at God's Table."